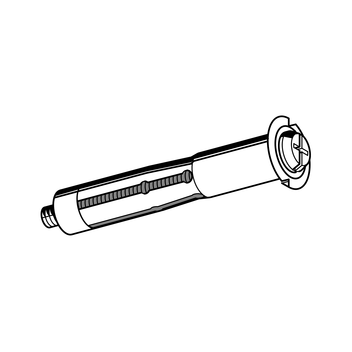 Application
The Hollow Space Anchor Metall ANC-M is used for installations in hollow walls, covered with plasterboards, laminated wood and chip boards, as well as hollow masonry with big cavities. The object can be removed and tightended at any time without changing the position of the anchor. Straps at the anchor cap ensure a perfect torsion protection.
Scope of delivery
Multiple splitted anchor body with a metric bolt.
Installation
Tightening the anchor with a pair of Assembly Pliers ANC-M MZ, the slats spread completely and ensure a safe grip.
Technical Data
Maximum recommended loads:
Type

M4/12

M5/16

M5/32

M6/16

M6/32

M8/18

M8/32

Plasterboard d = 12,5 mm
Tensile load [kN]

0,25
0,30
0,30
0,40
0,40
0,20
0,20

Wood panel d = 13 mm
Tensile load [kN]
0,28
0,50
0,50
0,60
0,60
0,30
0,30

Cement fiberboard d = 12 mm
Tensile load [kN]
0,35
0,40
0,40
0,42
0,42
0,45
0,45

Hollow bricks (Hlz 12)
Tensile load [kN]
0,70
0,70
| | |
| --- | --- |
| Material: | Anchor and bolt of steel, electrogalvanized. |