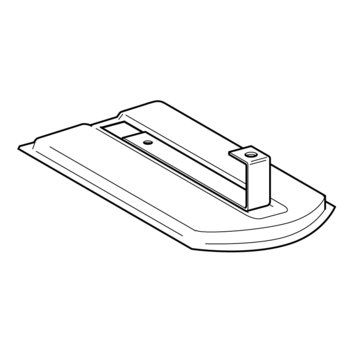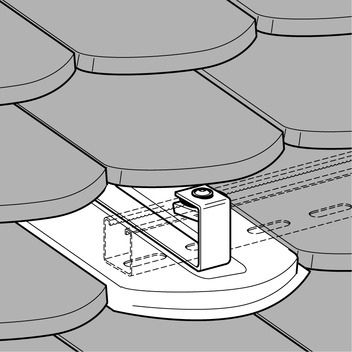 Group:
E401
---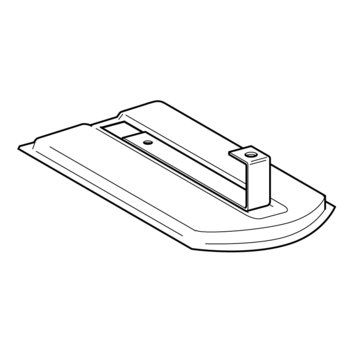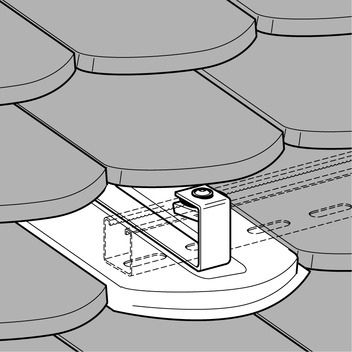 Application
Roof Hook Set for direct replacement of Plain Tile type roof tile, to mount Channel 41. Fix Roof Hook Set with Torx Flat Head Coach Screw FLAH 8 x 80. The Channel of height ≤ 45mm needs to be fixed with a Speed Nut NT CC HCP and a Flange Screw SCR FLA M10 x 25.
Scope of delivery
Roof Hook Set comprises a steel tile and a rafter hook.
Installation
| | |
| --- | --- |
| 1. | Remove roof tile and replace it with the Roof Hook Set 'Plain Tile'. |
| 2. | Screw the Roof Hook Set down at the junction point roof batten/rafter. |
| 3. | Click Speed Nut NT CC M10 HCP into the channel (such that it is installed in the body of the channel) and place it to the underside of the hook. Screw tight this pre-assembly with Flange Screw SCR FLA M10x25 so that the channel is secured against the underside of the hook. |
In order to preserve the balanced loading of the roof we recommend an application to all rafters.
Technical Data
| | |
| --- | --- |
| Max. perm. loads: | Fz and Fy = 1.0 kN |
| Material: | |
| Tile: | Steel 1.0350, electro-galvanised according to DIN EN 10346 |
| Hook: | HCP or HDG |